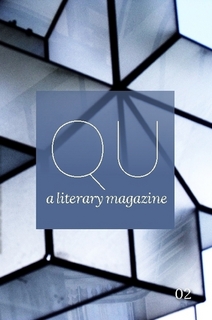 Issue
2
Spring 2015
Fiction
We want to extend a huge congratulations to writer Grant Gerald Miller whose short story "We Should Have Named Him"  (published in our first issue) was selected by Robert Olen Butler to be included in the anthology The Best Small Fictions 2015. We're so proud!
Curtis walked until West Girard turned into East and his feet hurt. It was 5:15 in morning and the sky was still as black as it comes when he went through the bright blue door with the sign above saying PHILADELPHIA POLICE DEPT 26TH DISTRICT. Inside, it was too hot and crowded. He felt itchy. But he kept still as he waited his turn. When it came, he unfolded the flyer with the pictures and put it flat on the counter with the thick scratched glass between him and the cop. He said, "I'm the one killed them kids." He turned the paper around so the two children in the black and white photo stared right up at the policeman on the other side of divide.
When Brin Lambert started her first Regimen, she began to have visions. Unlike other dieters, who hallucinated slices of black forest cake or supersized French fries, Brin, in the fever of hunger, saw Jesus. The more she gave up—sugar, fat, dairy, carbs—the more elaborate the visions became. Neighbors and co-workers took notice of her transformation, complimenting her new figure and beatific glow. In a matter of months, she went from a mediocre real estate agent to the firm's top saleswoman. With the extra income, she bought a bigger house in a better neighborhood, a 4-2 with a small above-ground swimming pool for her daughter, Laney.
Interviews and Extras
Where did the idea for 'Ward' stem from?
It started with the line "I'm the one killed them kids," which just came into my mind and stayed there until I wrote the story that went with it. I've had other stories begin that way, but this one at least had plenty going on in that one line: the confession to a crime, and, for better or worse, dialect. I wrote the original draft in my first MFA semester. My supervisor, Michael Parker, had pointed out that most of my stories followed a very linear timeline. 'Ward' became an exercise in breaking that habit through significant flashbacks that were not introduced with a space break. I forced myself to play with the story's time and its transitions. Also during that first semester, my mom asked me if I'd ever write a story with a happy ending. 'Ward' was my smart-ass answer. Though as I continued to work on the story, I came to feel that it does have a happy ending—at least as happy as I can manage.
Keija Parssinen's fiction often explores issues of control within families, and "Godly Bodies," featured in our Spring 2015 issue, is no exception. In the story, Brin Lambert's conflation of weight-loss aspirations with religion ultimately develops into a lucrative obsession that alienates her from her husband and her adolescent daughter. Similarly, Parssinen's dynamic new novel, The Unraveling of Mercy Louis, addresses themes of family and fundamentalism to rousing effect. We thought a brief discussion with the author might elicit some insights into her methodology and, though she's juggling a book tour and a new teaching gig at the University of Tulsa, she kindly took some time to talk about "Godly Bodies," her new novel, and her writing process.
DH: Hunger is a powerful presence in "Godly Bodies." Laney does little to rebel against her mother's strictures, which amplifies the power of the final scene when she acts on her desire, pressing "her teeth hard against the cords of (Marshall's) neck." This isn't something she would have done just a few pages earlier. How do you see Corson's departure effecting Laney, especially as regards her relationship to her mother?
KP: Corson's departure catalyzes a kind of awakening in Laney. She is suddenly aware that it is possible to defy Brin, and to break away, as Corson does. While Laney's future remains uncertain, I wanted the final scene to suggest that she is aware of Brin's fallibility, and in her own potential for defiance.
Non-Fiction
Mrs. Condell's hair is a fizz of gray and blond, like yellow chalk that's been left on the board too long. She wears a pale pink v-neck blouse that slides slowly underneath her breasts when she walks the hallways of the elementary school, and her tiny red Keds don't squeak. As I sat in the second row of her fourth grade classroom, I would watch the line of silk venture slowly upward, hoping with some strange fascination that one day the blouse would rise up to the point that I would be able to see the thin line of skin between the cloth and her pants. Possibly I thought it would be funny to see such a private body part exposed, like when Mr. Isbell would roll up the sleeves of his starched white button-down to conduct "El Tango" in music class and I would stare in awe at the hairless underside of his thin arms.
Benjamin Britten heard a bomb in Suffolk. He heard the graveled burst, the field golden green, whole, then not. Or perhaps what he heard was muffled, the grate of steel wool together, the scrubbing of pots. He knew though, the eventual composer, the someday lord, that he heard the explosion, his first remembered sound. In 1916, German ships bombarded Lowestoft, striking two homes neighboring Britten's childhood road. Britten, towheaded, was two and a half years old.
Poetry
Who is my mom's secret first husband
to me? No more a landscape feature
than the Zuiderzee. What can I say? I caved
when asked for a family
history. They are to me a collective
mystery, a game that is a book
in which we all write results
that are as strange to us as a dull butter knife
with its florid handle patina
obscuring bright plating, for special occasions only,
in a family that celebrates nothing.
I imagine my hair in a different era.
Coal-strewn and tobacco scented.
Bottles full of exhales
landed drunk on their sides.
I'll take, always, a gander
at the beautiful: this time
at the long black hair,
the short black skirt,
the razor thin pantyhose
and the black high heels.
Why doesn't everyone think of this? His daughter
is a minister herself, perhaps that gives her license;
perhaps it's the art he loved, or just the indelible
imprint of a person on the people who love him.
My friend went back to reading Yeats the year
she went back to the farm, claiming the land
as land, leaving a smart, well-dressed career
for dirt. This was her home. She'd planned
how what had grown tobacco now would bear
(a mile below where grinding, snorting bands
of bulldozers pawed the earth and air grew thick)
the fruit suburbanites would pay to pick.
As a quavering leaf is struck down
slabs of iron in miniature, hewn to exactitude
do a double take.
They staggered thirsty over the reefs with a calibrated zeal
that made nude the native hall-dwellers.
A sustained loss from the exploits, the cleaving,
filling of the earth and the graves were dug and recorded
in the collected hours before dawn. These leaves, an almanac
of conciliatory efforts to placate the sacralized grain.
They control the world but defer
to a light bulb's parallel presence
as object and event.
I understand that your piece of parchment
is an act of war,
that the little sticks you've scattered upon it
are a type of language.
Stage/Screen Writing
Scene: A room with glass panels on one side and a door. Shelves of books cover the back and sidewalls. In the foreground, a girl in her early- to mid-twenties sits in a leather armchair. In her lap is an open book. She is lit softly by a light from above. To the back right corner of the room, a redheaded man hunched over a desk, working with great concentration. He is a shape in the darkness.
The Writing Life